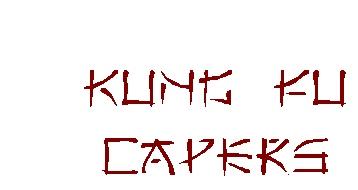 This page is dedicated to KUNG-FU CAPERS, a short film by esteemed director Bryan MacAfee, that began a trilogy of amazing adventures.

About Kung-Fu Capers

The Cast

The Script

On Video

The MacAfee Trilogy





WORSTELL PICTURES presents a BRYAN MACAFEE film
ANDY BLACK "KUNG-FU CAPERS" MEGAN JANKOWSKI
BRYAN MACAFEE and NICOLE FOSTER
music composed by BRYAN MACAFEE edited by BRYAN MACAFEE
translated by BRYAN MACAFEE directed by BRYAN MACAFEE

Kung-Fu Capers, ©1997, Worstell Pictures Presents, Inc. All Rights Reserved.


Public Release: 26 March 2001





This page engaged 19 March 2001.
Last updated 26 March 2001.
© 1997-, JG Enterprises, Inc. All Rights Reserved.