Josh's Chicago Review

5 March 2003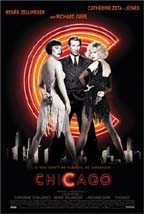 TITLE:			Chicago
DIRECTOR:		Rob Marshall
RUNNING TIME:		113 minutes
RELEASE DATE:		24 January 2003
MPAA RATING:		PG-13
CAST:
Renée Zellweger		Roxie Hart  
Catherine Zeta-Jones	Velma Kelly  
Richard Gere		Billy Flynn  
Queen Latifah		Matron "Mama" Morton  
John C. Reilly		Amos Hart  
Christine Baranski	Mary Sunshine  
Dominic West		Fred Casely  

REVIEWED BY: Joshua Gulch

JG RATING:
The Stage Show:






The Feature Film:




(Out of 5 possible points)

REVIEW:
Give 'em a show that's so splendiferous...
...Row after row they'll grow vorciferous.

I saw the movie on 25 January and came away from the theater with mixed feelings. While I did enjoy the film quite a bit, I also walked away wanting more. Indeed, I should have received such!

Can you imagine,
I mean, can you imagine?
Can you believe it,
I mean, can you believe it?

While the acting and talent were great and well cast, I was unhappy with the way it was produced. In making the film, no less than SEVEN numbers were cut out. SEVEN! I can understand one, maybe even two at most, but seven? That is an excessive extreme! (If you count the Overture and Entr'Acte, that's nine cut, but movies rarely include those anyway) Half of the show wasn't even there! I felt ripped off.

Total Chicago numbers:
1. Overture (Cut from film)
2. All that Jazz
3. Funny Honey
4. Cell Block Tango
5. When You're Good to Mama
6. All I Care About
7. A Little Bit of Good (Cut from film)
8. We Both Reached for the Gun
9. Roxie
10. I Can't Do It Alone
11. I Can't Do It Alone (Reprise) (Cut from film)
12. My Own Best Friend (Cut from film)
13. Entr'Acte (Cut from film)
14. I Know A Girl (Cut from film)
15. Me and My Baby (Cut from film)
16. Mister Cellophane
17. When Velma Takes the Stand (Cut from film)
18. Razzle Dazzle
19. Class (Cut from film)
20. Nowadays
21. Hot Honey Rag
22. Finale

"A Little Bit of Good" is Mary Sunshine's big character song, but the movie left her as little more than a glorified extra. The reprise of "I Can't Do It Alone" is where Velma, scorned by Roxie, slinks away singing "Like a deserted bride on her wedding night/All alone and shaking with fright/With her brand-new hubby nowhere in sight/I simply cannot do it alone." Certainly not enough to throw off pacing too severely. This is followed by Roxie and Velma's duet, "My Own Best Friend," a song of "unrelenting determination and unmitigated ego" that ends Act One (and is also my favorite song from the show).

Velma's trashing of Roxie in "I Know a Girl" was cut, which segued into "Me and My Baby," where Roxie sings of just that. Only a few notes from "Me and my Baby" made their way into the film as background score. "Velma Takes the Stand" features Velma trying to rehearse her trial (complete with a cheerleading chorus) to Billy, who is not paying attention, being too wrapped up in Roxie at the moment. A tiny piece of "Velma Takes the Stand" appears in the beginning of the film, in the scene where Velma shows how she's going to cross her legs, but that's it. After Roxie's trial ends, Velma and Mama sing a woeful song of days past, of how "nobody's got no 'Class'." "Class" was the only of these to be filmed, but was cut from the final release, though the song made it onto the movie's soundtrack.

In addition to the missing songs, bits and pieces were pulled from the ones left. A cut segment by Velma from "I Can't Do It Alone": "She'd say 'What state's Chicago in?'/I'd say 'Ill!' -- Did ya get that?" "Mister Cellophane" lost bits of Amos referencing the band after seeing Billy do it earlier. And my favorite line, too: In "All that Jazz," right after Roxie kills Fred Casely in the beginning, she succumbs to a state of shock and proclaims, "I gotta pee!"

A major pet peeve I had about this film was the separation of the musical sequences from reality. In the stage show, the numbers are integrated into the action in true musical style. Characters sing, it's real life, it's all good. But this film made the singing like metaphors for some reason. Nobody's REALLY singing in REAL LIFE. Singing is made into a mythical essence, a dream-like state known only to the audience and not the people in the story (save for cases of singing being a deliberate stage act, like "All that Jazz" and "I Can't Do It Alone.")

The songs "Cell Block Tango" and "When You're Good to Mama" were swapped, placing Mama's song before the Tango. In the stage show, the song is all of Mama's introductory dialogue. There's none of Queen Latifah cussing and swearing every other word. That was maybe an unnecessary addition.

One semi-good addition was a new song, written for the film by John Kander and Fred Ebb, called "I Move On," which was played over the end titles. Unfortunately, I don't remember how it went from only hearing it once, but it wasn't as memorable as the other songs in the show.

I was disappointed, as they could have produced a movie so much better and worthy of living up to this fantastic show. It was big. It was brash. It was flashy. But you razzle dazzle 'em, and they'll beg you for more. That's Chicago.




Articles