Photoplay: Sandwiches a la Movie

3 March 2012



This afternoon I watched the 2006 documentary about early silent film star Theda Bara (1885-1955), The Woman with the Hungry Eyes (it is download link #1 underneath the little projector icon on Dr. Macro's gallery page). The documentary was very enjoyable, and a peek into a film icon who has practically no surviving body of work.

Historian Robert S. Brichard made the observation in the documentary, "Theda Bara is unique among film stars in that her image comes down to us almost entirely from still pictures. She made something like forty films and only a handful of them survive, but the images of Cleopatra and Salomé with the skimpy costumes and the exotic poses are what people remember. They don't know the actress, they don't know her films, but they know the image that she projected onscreen, or at least in the still pictures."

Between 1914 and 1926 she stared in forty-four films, with all but four or so having been lost over the intervening decades (and only one on home video), the majority being destroyed all at once in a film library fire on the Fox lot in July 1937, including her two biggest features, Cleopatra (1917) and Salomé (1918). Her career was elaborately crafted from the start, with a new back story of having been born in Egypt rather than Ohio, and her name Theodora Goodman changed by William Fox Films to Theda Bara -- literally "Arab death" -- to befit her new onscreen persona as the first vamp, a dark, predatory sexual being feeding on mens' vitality. She was inevitably typecast in the part.

At the forty-three minute spot something caught my ears. "Theda's name started to appear in the titles and lyrics of popular songs," the narrator informs us. "Photoplay magazine offered the recipe for the 'Theda Bara sandwich,' a spicy affair described as 'the sandwich that bites a little and says "more."'" Wait, what?

You can't just drop a fact like that and let it go! A little Googling for "Theda Bara sandwich" got me the issue of Photoplay in question: February 1916. Google Books has a handful of archived PDFs from the early years of this magazine, including one that has all issues between December 1915-May 1916. In that collected PDF, the February '16 issue begins on page 356 and the article on movie star sandwiches is pages 484-5. Here's a copy of the article for perusal: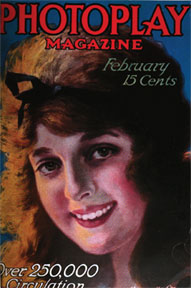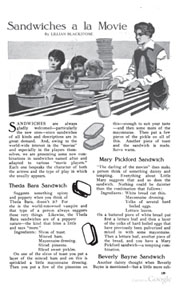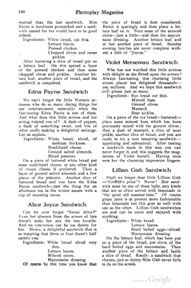 This issue featured actress Marguerite Courtot on the cover. Once a star of some acclaim, she's basically unknown today (here is a better scan of the cover).

The article, "Sandwiches a la Movie" is quirky and unique, and I love the idea behind it. It's written by Lillian Blackstone and provides recipes for seven sandwiches corresponding to the attitudes of seven well-known actresses at the time. Today only three of them are remembered at all: Mary Pickford, Lillian Gish, and Theda Bara. The other four -- Beverly Bayne, Edna Payne, Alice Joyce, and Violet Mersereau -- have all faded into film obscurity, but that doesn't mean that their sandwiches should.

Overall, some of these sound delicious. The Alice Joyce sandwich, with only mayonnaise and onions, turns me away, but the other six aren't bad, even if four of them rely so much on mayonnaise.

The Mary Pickford and Lillian Gish sandwiches aren't all that different. They're both essentially hard boiled egg yolks with mayonnaise and lettuce on white bread. The difference is that on Gish's sandwich the yolks are sliced and added intact while Pickford's mashes the yolks and mixes them with the mayo. So essentially Pickford's is a deviled egg sandwich, which could actually be tasty. It's interesting that Hollywood's pure and innocent angel would be given a deviled egg concoction, though it lacks paprika. Is that what makes it "deviled?" I don't know.

As to the Theda Bara sandwich, it's minced ham, pimento peppers, sweet pickles, and mayonnaise on white toast. I'd say that's "spicy and peppery" to befit the tempestuous Bara, "the kind that bites a little and says 'more.'" It also sounds pretty good.

Do you think I could substitute the ham with chicken from the Beverly Bayne sandwich? I've never cared much for ham.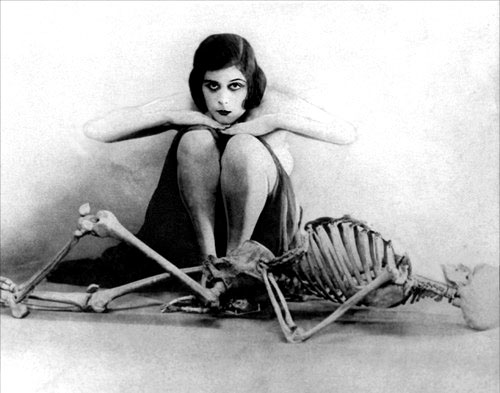 Theda Bara

Articles